"Vous vous rendez compte de quoi est fait un être humain ? D'obscur, de contradiction, de folie, d'intelligence…Il faut lutter pour le sauvegarder ! (Fanny Ardant)
Mes impressions sur ce film sont très intenses……Ce film m'a « impressionnée », dans le sens lumineux du terme. Beaucoup de scènes m'ont marquées, celles des rituels surtout : aboutis, interrompus, « transis »…Ces scènes ont un goût étrange, de beauté et de vérité, douloureuses, infinies absolues et ineffables…qui transcendent les vies humaines en quête de « beauté-vérité » depuis des siècles… Fanny Ardant est touchante, comme d'habitude, mais en particulier dans ce film où on l'a voit sous un nouvel angle cinématographique : Malade, avec le maquillage adéquat… Cette paleur de teint, ces lèvres blanchies, ces cernes foncées, comme des ombres de la mort… Cette vérité « nue » dans le bain de purification…Tout cela fait de l'interprétation de Fanny ARDANT (Anouk) une interprétation vraiment bouleversante. J'ai eu peur lorsque je me suis mise à croire vraiment à son personnage, à n'en plus distinguer La Fanny Ardant de « la femme d'à côté », et des interviews, de celle de « The Secrets »…. …D'un point de vue purement délirant, Anouk (the secrets) aurait d'ailleurs pu incarner le spectre de Mathilde (la femme d'à côté), puisque ces deux personnages ont commis un crime passionnel…Cette pensée aurait-elle effleurée l'esprit d'Avi Nesher ?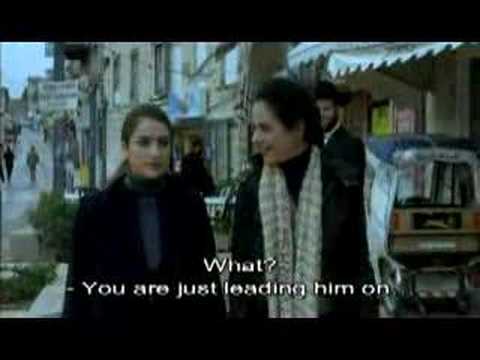 Ci dessous l'interview lumineux de Fanny Ardant + une fiche film complète  (variety.com)
Fanny Ardant, secrets et révélations

En exclusivité pour «Tribune Juive », l'actrice, qui tourne «Les Secrets» sous la direction d'Avi Nesher en Israël, évoque Golda Meir, Ariel Sharon, les femmes… et le traitement de l'information. Entretien avec Ivan Levaï
 TJ : Vous venez de terminer à Tel-Aviv le tournage du film Les Secrets avec Avi Nesher, l'un des réalisateurs les plus talentueux de la nouvelle vague du cinéma israélien. On lui doit la comédie musicale, La Troupe, aux airs toujours célèbres enIsraël et, plus récemment, le film Au bout du monde à gauche. De quoi s'agit-il cette fois ?
Fanny Ardant : Le scénario d'Avi Nesher raconte l'histoire de deux jeunes filles qui font leurs éudes dans une yéshiva où elles apprennent la Kabbale et le Talmud. Elles vont croiser la route d'une jeune femme qui, après une vie tourmentée et des années de prison pour avoir tué l'homme qu'elle aimait, est venue à Safed chercher la purification et obtenir le pardon de Dieu. Les deux jeunes filles vont l'aider dans son itinéraire spirituel pour, qu'à sa mort, Dieu la reconnaisse. .
TJ : Et c'est vous qui incarnez la meurtrière ?
F. A. : , mais on ne voit pas mon crime dans le film. L'histoire commence au moment où j'arrive à Safed et je demande à un rabbin de m'aider et de me guider dans la voie du pardon.
TJ : Vous aviez idée de la vie dans une yéshiva ou vous avez découvert cet univers si particulier ?
F. A. : C'est un monde que je n'ignorais pas grâce aux livres, ceux d'Isaac Bashevis Singer singulièrement. Je savais donc ce qu'était une yéshiva, et ce monde où des êtres dédient leur vie à l'étude de la parole de Dieu. Je ne connaissais pas tout mais je possédais l'essentiel.
TJ : Crime, religion, purification… C'est un personnage douloureux qu'on vous fait jouer là.
F. A. : C'est vrai. Mais cette femme, qui regrette beaucoup des choses qu'elle a faites, ne regrettera jamais l'amour fou qu'elle a eu pour cet homme. Et il y aura échange croisé entre les jeunes filles qui vont lui apprendre les rituels du pardon et mon personnage qui va leur transmettre l'amour de la vie.
TJ : De là, j'imagine, toutes les cérémonies : shabbat, Yom Kippour ?
F A : Non, pas précisément. Le film met en scène les rituels de la purification par l'eau, par le feu, et les prières spécifiques qui les accompagnent. Et tout cela donne à la femme une sorte d'authenticité de vie. Je devrais dire de ses vies, religieuse, spirituelle, amoureuse, sexuelle, pour aboutir à une vision très complète, très harmonique de l'existence.
TJ : Rôle paradoxal pour vous, dont l'image n'est pas précisément celle d'une janséniste !
F. A : Vous savez, une vraie religion pratiquée au nom de Dieu, de l'amour et des êtres qui peuplent cette terre, c'est parfaitement intemporel. Dieu n'est lié ni à l'ancienneté ni à la modernité. La religion a quelque chose d'éternel.
TJ : Seriez-vous mystique ?
F. A. : Je le suis, en effet.
TJ : Connaissiez-vous Israël avant d'y séjourner cet hiver ?
F. A. : Je suis venue plusieurs fois à Jérusalem. Et j'ai déjà tourné un film ici il y a quelques années, à l'époque de la première guerre contre l'Irak. C'était en 1991, je crois.
TJ : Et vous vous y retrouvez, au moment où le Premier ministre Ariel Sharon se meurt, où les élections se préparent, et le Hamas vient, à la surprise générale, de triompher du Fatah. Avez-vous le temps de vous intéresser à ce qui se passe autour de vous et trouvez-vous le pays calme ou très agité ?
F. A. : Étrangement calme, justement. Pardonnez-moi, mais je constate qu'il y a toujours un grand décalage entre ce que racontent les journaux et la vraie vie. D'un côté, des reportages plus ou moins sensationnels et, de l'autre, la vie quotidienne des gens, qui est tellement différente de ce que l'on peut lire. Dans les reportages, on focalise sur les grands événements mais la vraie vie, avec ses implications humaines et ses réalités, est plus forte. Mais celle-là, vous le savez bien, ne s'inscrit jamais dans un journal.
TJ : Vous avez tourné à Safed, au nord d'Israël, près de la frontière libanaise, avec ses populations mêlées, ses artistes, dans un monde où Arabes israéliens et Juifs se côtoient pacifiquement ?
F. A. : Oui, c'est vrai, Safed est hors du monde. Et c'est parce que je viens d'y travailler que je me méfie de l'information. Avant de venir ici, j'étais en Russie et, à mon arrivée, on m'a dit : « La France est à feu et à sang, les voitures sont incendiées dans les banlieues. » J'ai réagi plutôt vivement : « Mais pas du tout ! Ce sont les  reportages qui grossissent les faits et les théâtralisent. »Quand on est sur place, on donne aux événements leur juste dimension. Cette année, en Israël, je ne me suis jamais sentie autant en sécurité.
TJ : Je partage ce sentiment…
F. A. : On n'a pas l'impression d'être dans un pays qui va mal. Et je ne vois pas un policier à chaque coin de rue, comme à Paris. Certains prétendent qu'il y aurait un policier pour trois habitants en France. Si c'est le cas, c'est beaucoup.
TJ : Il y a tout de même l'armée qui patrouille aux frontières et, dans les lieux publics, des civils très vigilants.
F. A. : Mais c'est la routine. On montre le coffre de sa voiture, on se signale en entrant à l'hôtel, on n'ouvre pas sa porte à n'importe qui. C'est comme vous le dites, de la vigilance.
TJ : Certes, mais vous êtes une star et les gens vous reconnaissent.
F. A. : Je pense que les Israéliens connaissent surtout le cinéma français.
TJ : Ne me dites pas qu'ici vous êtes anonyme ?
F. A. : Je le suis toujours. Ce n'est pas propre à Israël. On est anonyme dès que les lumières d'un plateau s'éteignent.
TJ :  Et que pensez-vous de l'« explosion » nouvelle du cinéma israélien ?
F. A. : C'est un cinéma très intéressant. Je profite d'ailleurs de mon séjour pour voir de nombreux films, Pork and Milk, Nina's tragedies…
TJ : Le film Les Tragédies de Nina, de Savi Gabison, était à l'affiche du dernier Festival du film israélien à  Paris. Il a obtenu un tel succès qu'il mériterait de trouver un distributeur en France.
F. A. : Moi aussi, j'ai adoré ce film. C'est une sorte d'Almodovar israélien. Et également Prendre femme et Mariage tardif. J'ai trouvé ces films très personnels avec une vision d'Israël qui n'est pas celle du conflit israélo-palestinien. Il y a de vraies histoires d'amour, de vrais chagrins, des vies de famille. C'est cela aussi le cinéma. Il n'y a pas que le contexte politique qui vaille la peine d'être montré.
TJ : Bref, selon vous, la vitalité de la société israélienne se mesure aussi à l'écran ?
F. A. : Ce n'est pas nouveau mais beaucoup semblent l'ignorer. Comme si on voulait réduire l'impact d'un pays à une seule réalité. On a trop tendance à simplifier.
TJ : En quelle langue tournez-vous Les Secrets, ce film qui, à l'origine, devait s'appeler La Vérité ?
F. A. : En français et en hébreu phonétique.
 TJ : Et pour les rituels, dont vous n'êtes pas familière, est-ce que c'est difficile ?
F. A. : Pas du tout. C'est facile. Avi Nesher aime les acteurs et sait exactement ce qu'il veut. Et moi, ça me plaît.
TJ : Si j'ai bien compris, il n'y a pas d'homme dans le film ?
F. A. : Non, pas d'homme.
TJ : Et pas de scènes d'effusions non plus ?
F.A. : Non. C'est dommage !
TJ : Vous avez parlé de l'eau tout à l'heure, de la purification, du bain rituel… Alors, on vous voit….
F. A. : Au mikvé.
TJ : On vous y trempe jusqu'à la racine des cheveux ?
F. A. : Ah ! vous savez cela !
TJ : Cela vous étonne ?
F. A. : Non, non. Mais vous avez dit jusqu'à la racine des cheveux et c'est cela qui est important pour que la purification soit complète. Pour qu'elle vous enveloppe.
TJ : Mais au-delà de ces rituels, quel est votre sentiment sur le statut de la femme juive ?
F. A. : J'ai beaucoup de mal justement à avoir un avis sur la position de la femme selon les règles de la religion. Pour moi, chaque femme est singulière. Comment vous expliquer ? Ce sont des individus. Je ne crois pas aux groupes de femmes. Je crois à des destins féminins. Alors, il y a sûrement, comme partout, des femmes écrasées et des femmes fortes. Mais rappelons- nous qu'Israël est le premier pays qui, au XXe siècle, a donné le pouvoir à une femme : Golda Meir. Le pouvoir des femmes dépend aussi des hommes. Vous pouvez avoir des pères, des grands-pères, des frères, des maris magnifiques. Et puis, vous pouvez tomber sur des abrutis. Mais ce n'est pas propre à Israël, ni à je ne sais quelle société. C'est la nature humaine. Je ne connais pas suffisamment le statut de la femme juive, mais j'ai rencontré ici des femmes incroyablement fortes, avec des personnalités marquées, qui se débrouillent fort bien.
TJ : À votre retour en France, vous croiserez forcément des gens moins informés que vous de la situation  au Proche-Orient… À ce propos, avez-vous le sentiment que le racisme et l'antisémitisme travaillent notre pays ?
F. A. : Je ne sais pas, mais je souffre surtout de l'orientation de l'information. J'ignore d'où cela vient, mais cela m'inquiète. Personnellement, je n'ai jamais été en butte à des propos antisémites. En revanche, la politique contre Israël m'a toujours choquée. J'y vois comme une sorte de bonne conscience que je ne parviens pas à comprendre. Moi, j'aime beaucoup Israël. Je suis pro-Israël. Et je trouve l'information sur le Proche-Orient plutôt partiale. Est-ce du conformisme ? Est-ce la volonté stupide d'« ouvrir des portes ouvertes ». Jamais une information intéressante. Jamais… Pourtant, Ariel Sharon est un homme magnifique, or tout le monde lui a craché dessus. Il a fait des choses admirables, on l'a traîné dans la boue, on l'a diabolisé. C'est incompréhensible !
TJ : On lui devra peut-être la paix.
F. A. : Voilà ! Vous savez, je ne suis pas du tout politisée. Je ne lis guère les journaux et je regarde peu la télévision. Mais, finalement, les choses importantes surnagent. Et parmi elles, il y a de quoi me mettre très en colère contre le traitement de l'information.
TJ : Quand, dans quelques mois, le film sortira sur les écrans, vous allez étonner beaucoup de monde. Il y aura sans doute des gens pour dire : « Tiens, Fanny Ardant en femme juive. Comme c'est bizarre !»
F. A. : Et non, justement ! L'habileté, l'intelligence d'Avi Nesher, c'est que je ne suis pas juive. Et que la grande force de son film tient dans l'attitude des deux jeunes filles de la yéshiva. Elles commettent presque une faute en purifiant une femme qui n'est pas juive.
TJ : Ah bon ! C'est interdit ?
F. A : Je joue une goy. Et c'est magnifique puisque cela revient à dire : « Allez, de toute façon, Dieu est au-dessus de nous et nous voit. »
T.J. : Cela me rappelle Amos Oz. Il imagine Dieu croisant un quidam à Jérusalem, qui lui demande : « Quelle est la bonne religion ? » Dieu lui répond : « Vous savez, je ne m'occupe pas des religions, je me soucie des hommes. »
F. A. : C'est génial ça ! Cela prouve qu'en cherchant Dieu ou son salut, qui n'est pas une notion juive, on peut trouver la rédemption. La recherche de la pureté et de l'honnêteté nous fait parler le même langage. Dans ce cas, on se comprend tout de suite. C'est quand on veut autre chose que commencent les oppositions. 
+  Fiche FILM
With an exotic Jewish subculture, a French star and a lesbian love affair, Avi Nesher's « The Secrets » would appear to have all the art cinema demographic bases covered. Part of a stream of Israeli films treating the country's Orthodox community with an alternately critical and sympathetic liberal-feminist point of view, drama about a group of Kabbalah students caring for an outcast is excessively overwrought and drawn out. Serious topics risk tilting into unintended comedy, and it's unclear if the intended auds will tolerate the entire package, pointing to mixed commercial results.
As Naomi (Ania Bokstein) mourns her mother, she also is extremely wary of the prospect of marrying Michael (Guri Alfi), an off-putting, stern rabbinical student. Raised in the strictest possible religious climate by her father, Rabbi Hess (Sefi Rivlin), Naomi is an exceptionally gifted student of the Torah who, inconveniently, is female, and thus doomed to a purely domestic life under the culture's hardline divisions of gender responsibilities.
She persuades her elders to send her to the Daat Emet seminary for women in the hilly burg of Safed, an ancient spot of reclusion for followers of mystical Judaism.
Unfortunately, because Nesher isn't an especially interesting visualist, Naomi's move to this otherworldly place of narrow cobble-stoned streets echoing with prayer chants and klezmer music isn't the transporting film experience one would want.
Naomi settles in with roomies Sheine (Talli Oren), concerned mostly with her weight, and Sigi (Dana Ivgy), whose newness to the faith leads her to become an extremely fervent student. Wild card is new student Michelle (Michal Shtamler), fresh from Lyon and reeking of cigarette smoke and the kind of Gallic attitude that's less borne out of character and more the stuff of cultural cliche by screenwriters Nesher and Hadar Galron.
The young women are assigned to deliver regular care packages to the mysterious and lonely Anouk (Fanny Ardant), a French woman who lives across the lane.
The secrets of the title soon come tumbling out in the form of Anouk's colorful, erotic and tragic past. Certain that they have a fine candidate for a Tikkun, or cleansing ritual in the Kabbalistic practice, Naomi and Michelle guide Anouk through various exercises including immersion in a hot bath, which have the inadvertent result of getting the two young women all worked up about each other.
While their ensuing love affair may come out of their culture's tendency to separate men from women — and women's inevitable sense of solidarity with one another under such conditions — it simply doesn't work in the film at hand, despite the best efforts of Bokstein and Shtamler in thoughtfully shaded perfs.
Several other pairings of characters are even less plausible.
Pic never seems to end, with Anouk's drama pushed to the background and replaced by the Naomi-Michelle melodrama. Production is clean but cinematically undistinguished, with a certain tourist appeal to Safed location lensing.